[NEWS] November 12, 2012 - Fall is Here, Thanksgiving Around the Corner!
Fall is well underway and FGC's fall touring is off to a great start. The band would like to thank everyone that came out in Urbana, Milwaukee, Dekalb and Iowa City for some terrific nights - there seems to be a little extra energy in the air this fall.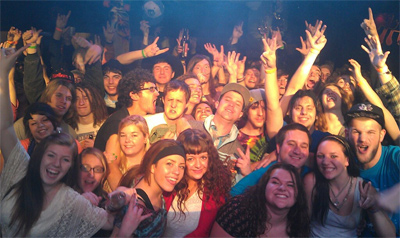 Front row photo from 10/19/12 in Dekalb. Click here for more front row shots!
This weekend the band will be back on the road with a much anticipated return to the Redstone Room in Davenport, and a headlining appearance at Little Big Fest in Des Moines. The Redstone Room always seems to bring out some of the band's best music, and Little Big Fest has been an excellent event for several years now - everyone in the FGC camp is looking forward to a killer weekend in Iowa!
Further up the road, the band is very excited about an upcoming Thanksgiving show at Martyrs' on Saturday, November 24, where FGC will be joined by very good friends the Henhouse Prowlers. Members of both bands have been having a great time with numerous sit ins over the last several months, and fans can expect more of the same Thanksgiving weekend. The event is open to ages 18+ and is sure to be a great night!
Finally, FGC is very excited to announce plans for this year's New Year's Eve bash. The band will headline a very special event at the Grand Hotel Ballroom in Peoria, IL. The event will be open to all ages and will include good friends Brainchild and Jaik Willis. Tickets are sure to go quick - click here for all the details.
See you all at the shows!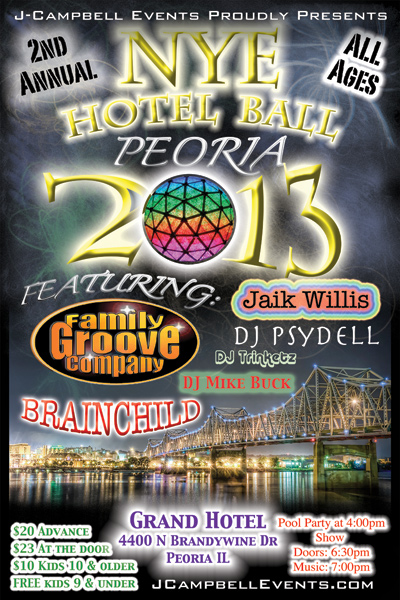 [NEWS] September 23, 2012 - Another Incredible Festival Season in the Books!
FGC had a blast this summer, with River Roots, North Coast and Shoe Fest wrapping up festival season in spectacular fashion. The band closed out the first night of River Roots with a killer set, and Janis and Mattias then joined good friends Old Shoe for a sit-in at the Redstone Room's after-party.
Over Labor Day Weekend, FGC was one of the few but proud acts representing music played by live musicians at the North Coast Music Festival and tore it up.
Finally, everyone in the FGC family sends a heart-felt and grateful "job well done" to all of the Shoe Fest organizers for putting together another first-rate event. This was year two for Shoe Fest, and FGC was thrilled to be back. The band played what may prove to be a legendary set, and the hometown, family-vibe made for a very special weekend.
Looking ahead, FGC will be back down in Urbana for another great show at the Canopy Club next weekend. October will find the band in Milwaukee, Iowa City and Dekalb, followed by Des Moines and Davenport later in the fall. Plans for a big Thanksgiving show are in the works, so be sure to stay tuned to the official FGC sites to keep up with all the latest.
Big thanks to everyone for another incredible summer - see you all out on the road this fall!
[NEWS] July 9, 2012 - Summer's Here!
The All-Star break is upon us which must mean that summer is well underway - time flies when you're having fun! As always, Summer Camp was the clear highlight of the first part of festival season. Thursday night's set at the pre-party found the band in front of a massive crowd, and the band treated Summer Camp pre-partiers to a very special sit-in with Allie Kral, fiddle virtuoso from Cornmeal. Allie and FGC collaborated on a killer cover of Elton John's Bennie and the Jets that later wove its way into a rollicking West Egg Party - by all accounts, a spectacular way to kick off the weekend.
On Saturday, the band featured Keith Pitner and the Viewpoint-Neutral Content-Based Horns - FGC's first Summer Camp appearance with a horn section. The band introduced ripping new covers by Tower of Power (Squib Cakes) and Wilco (I'm the Man Who Loves You), and unveiled horn arrangements for FGC staples like White Picket Fence, Tutear, Guns of Ticonderoga, and The Charmer. An absolute blast was had by all, and this certainly will not be last you've all heard of FGC + horn section.
More recently, FGC played killer sets at the Universal Rhythm Assembly, where SCI drummer Michael Travis sat in for Santana's Oye Como Va, and at the Stranger Danger Festival in Chicago. Just last weekend, the band enjoyed a steamy night with a huge crowd at the Two Brothers Roundhouse out in Aurora.
Looking ahead, FGC is eagerly awaiting a late night set at Whippersnap Festival in Rockford later this month, followed by what should be a monstrous set at River Roots Live in Davenport in August. Rounding out the summer will be a big hometown throw-down at the North Coast Music Festival in Chicago over Labor Day weekend, followed by the band's highly anticipated return to Shoe Fest in Manteno, IL.
Everybody in FGC land has been having a blast so far this summer - we hope you have too! See you all at the shows!
[NEWS] April 9, 2012 - Third Annual FGC Sticker Design Contest: Win a free ticket to Summer Camp Festival!
For the third year running, we're calling upon YOU the fans to design FGC's next sticker. The winner is awarded a full weekend pass to Summer Camp Festival! (Note: Prize is transferable if winner cannot attend the festival.)


SUBMISSION GUIDELINES
• Email your entry as an attachment to fgcstickers@gmail.com. Be sure to include your name and phone number in the body of the email. All entries will receive an email response within 24 hours to confirm receipt. If you do not receive a confirmation, please check back with us!
• Feel free to submit as many designs as you like.
• Entries due by May 4, 2012.
• Winner chosen by FGC's esteemed panel of judges (i.e. the band) and will be announced on May 7, 2012.

ARTWORK GUIDELINES
• Artwork should include "Family Groove Company" or "FGC" (duh)
• Any size square/rectangle or circle/oval design is acceptable; we don't want to cramp your artistic style. We'll take care of the final size requirements if we choose your design. Keep in mind, the sticker's print size will be fairly small (~8 square inches total).
• Both digitally-designed and scanned hand-drawn designs are accepted, and any image format is fine (jpg, gif, psd, etc). 300dpi is best. Unflattened Photoshop files preferred, but not required.
• No color restrictions; designs can be full color.
• If you have any questions, please drop us an email at fgcstickers@gmail.com


For more information about Summer Camp Festival, visit www.summercampfestival.com or www.facebook.com/summercampmusicfestival

The fine print:
FGC reserves the right to change the design slightly for printability. Winning submission becomes the property of FGC and no compensation, other than the contest prize, will be distributed to entrants. Festival ticket prize is transferable to a person other than the contest winner for a $25 fee paid at the festival box office.
2010 Winner
Jon Griffin

2011 Winner
Pat Marek
[NEWS] March 19, 2012 - Killer Shows at the Riv and the Canopy in the Books, Big Nights at the Miramar and the Vic Around the Corner!
Hope you've all been enjoying this incredible weather! Big thanks to all of you who joined us at the Riviera last month, and of course thanks go out to everyone in the moe. camp for having us aboard. The band had a blast - click here to check out video of a rockin' American Girl cover and photos from the show.
We also had a wonderful time at the Jay Goldberg Events and Entertainment 40th anniversary party earlier this month. Thanks to the Jay Goldberg family for having us - it was a privilege to perform at such a special event!
And to top off the recap, the band also had a killer night at the Canopy Club earlier this month - FGC's whopping 25th appearance at the Canopy! Thanks very much to Mike, Ian, Nate and the whole crew for taking such good care of us.
Looking ahead, the band is gearing up for a return to Milwaukee at the end of the month, followed by stops in Iowa City and Dekalb early in April. Later in April, FGC is very happy to announce that the band will join good friends Cornmeal and Hot Buttered Rum for a very special night at the Vic Theatre in Chicago on April 20!
Lots of great stuff around the corner, and Summer Camp's drawing nearer every day! Looking forward to seeing you all out at the shows!
[NEWS] January 14, 2012 - Happy New Year!
Big thanks to all of you that joined us for another spectacular New Year's show! The band debuted a whopping 13 new songs and had an absolute blast doing it. Special thanks go out to our incredible horn section, Sean Koga, Keith Pitner, and Adam Nicholson for just nailing it! Best wishes to everyone in the extended FGC family for a wonderful new year!
The band will be spending most of January in Chicago, hard at work on the new album. Winter and Spring 2012 dates to be announced shortly - stay tuned to the official site and the FGC facebook page for all the latest!