[NEWS] December 1, 2010 - Happy Holidays!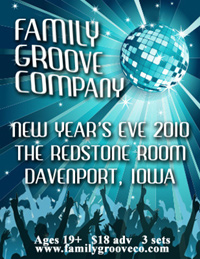 Hope the holiday season is off to a great start for everyone! The band would like to thank everyone that came out and got down at the FGC Thanksgiving show last week. The Mayne Stage Theatre may be a new favorite spot for the band, and judging from the feedback we've received from you all, we're not alone there. The show was a huge success, and a great way to kick off the holiday season - for some video highlights, including Janis' breakout performance of Salt 'n' Pepa's "Whatta Man," click here!
With Thanksgiving behind us, New Year's Eve is around the corner, and the band is hard at work preparing for another great night at the Redstone Room. This year, you all can help! Click here to weigh in on the All Request Acoustic set, and let the band know what you want to hear!
The entire FGC family can't wait to see you all at the Redstone Room - until then, have a happy, fun, and safe holiday season!
[NEWS] October 26, 2010 - An FGC Thanksgiving!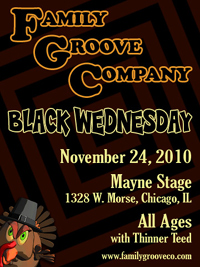 Family Groove Company is very happy to announce an FGC Black Wednesday Thanksgiving Party on Wednesday, November 24. The show will be held at the recently reopened and renovated Mayne Stage Theatre in Chicago. The Mayne Stage is a beautiful performance space and the room sounds fantastic. The band is thrilled to host the FGC Thanksgiving show there, and we can't wait to see you all out on the 24th!
Please note: Due to a last minute change in a city ordinance regarding age restrictions at the Abbey Pub, FGC's performance there on 11/26 has been cancelled.
[NEWS] October 3, 2010 - Great Finish to the Summer, Fall Touring Underway!
FGC wrapped up festival season 2010 with killer sets at the Wuhnurth Festival in Spencer, IN, and the Tall Tree Lake Festival in Goreville, IL. Big thanks to everyone involved in both events for putting together two incredible weekends. And of course big thanks as well to those of you that came out and had so much fun with us.
After a little time to catch our breaths, the band will be back out on the road later this month for shows at the Castle Theater in Bloomington, IL, Gabe's Oasis in Iowa City, IA, and a special Halloween show at the Bourbon Theatre in Lincoln, NE. Stay tuned for details!
The band is also happy to announce that for this year's Thanksgiving show FGC will be returning to one of our favorite spots - The Abbey Pub, on Friday, November 26. Can't wait to see you all there!
[NEWS] August 12, 2010 - North Coast Music Festival - Plenty of Summer Touring Still to Come!
FGC is very happy to announce two performances at this year's inaugural North Coast Music Festival in Chicago, IL. The band will perform at the festival on Saturday, September 4, and then later that night FGC will appear as a part of an official North Coast after-party at the Double Door, with good friends the New Mastersounds. Can't wait to see everyone on Labor Day weekend!
Prior to the North Coast fest, FGC will be swinging through Madison, WI for a performance at the Majestic Theatre, followed by a stop in St. Louis at the Old Rock House. Later in September, the band is looking forward to several additional festival appearances at Wuhnurth in Spencer, IN, and then at Tall Tree Lakes in southern Illinois.
See you all out there!
[NEWS] July 7, 2010 - Summer Tour Well Underway!
Everyone in the FGC camp would like to extend heartfelt thanks to all for another incredible Summer Camp Festival! And while we're at it, thanks for all the support and love we received in recent weeks at Midwest Lovefest, Universal Rhythm Assembly, and 80-35 Festival! Summer's been off to a fun start, and it's been great having so many of you along for the ride.
Next up is a show at one of the band's favorite venues, the Miramar Theatre in Milwaukee, WI on July 23. Shortly after that, the band will return to Wisconsin for another headlining performance at the 3 G's Festival on July 31. Looking forward to seeing all our Wisco fans and friends!
Several announcements regarding August and September dates will be coming shortly - in the meantime, we hope everyone's out and enjoying the summer!
[NEWS] May 9, 2010 - Sticker Design Contest Winner
First off, the band would like to extend a very heartfelt thanks to all the talented individuals who sent in their designs for our sticker contest. It is quite an understatement to say that we had an incredibly tough time picking just one winner from all the great submissions we received.
Without further ado, we'd like to congratulate our winner, Jon Griffin, who submitted the very cool FGC bus design below. Jon gets his artwork immortalized on a sticker and scores himself a ticket to Summer Camp Festival. Thank you, Jon!
Be sure to stop by the merch table at any upcoming show to grab one of these new stickers (FREE!).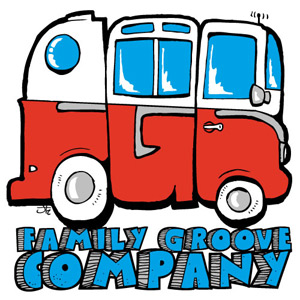 [NEWS] April 15, 2010 - FGC Sticker Design Contest: Win a free ticket to Summer Camp Festival!
Design the next FGC sticker and win a free full weekend pass to Summer Camp Festival!
Email your digital artwork to info@familygrooveco.com.
Entries due by April 30, 2010. Winners notified by May 7, 2010.
We don't want to cramp your artistic style, but here are a few technical suggestions...
• Circle or square shape preferred
• Full color accepted, but simpler 2-3 color designs preferred
• 4x4" or 4" diameter maximum
Entries not following these guidelines will not necessarily be disqualified.
More information about Summer Camp Festival at summercampfestival.com or their Facebook page.
The fine print:
FGC reserves the right to change the design slightly for printability. Winning submission becomes the property of FGC and no compensation, other than the contest prize, will be distributed to entrants. Any entries that infringe upon existing copyrights will not be eligible. Prize is transferable to a person other than the contest winner for a $25 fee paid at the festival box office.
[NEWS] April 5, 2010 - Spring Tour is Here!
After battling through another winter, April touring is finally upon us. The band ran into some late season snow two weeks ago in Des Moines and Dekalb, but packed houses came out both nights despite the blizzard - check out some video footage of both shows here!
The band also enjoyed another hometown blowout at the Abbey last week - big thanks to everyone that came out and welcomed us back home. A free download of the show audio is available here.
This past week saw FGC back down in Kansas City and Lawrence for a pair of killer shows at Crosstown Station and the Bottleneck, and the band is geared up for a busy April. Next up will be stops in Iowa City and Minneapolis, followed by a return to the Canopy Club in Urbana, IL and a stop in Bloomington, IN.
And of course, Summer Camp is right around the corner! FGC will be getting a head start on the festivities with a pre-party at the Barrymore in Madison, WI with good friends 30 db (featuring Brendan Bayliss and Jeff Austin) and Cornmeal on May 7. Stay tuned for more info on FGC's Summer Camp performances - we can't wait!!
[NEWS] February 15, 2010 - Winter Tour 2010 Underway!
After a brief break following New Year's Eve, Winter Tour 2010 is in full swing. The band had a blast hitting UW-Stevens Point and Winona State last weekend (check out the video blog here) and everyone in FGC world is looking forward to paying a visit to our favorite Midwest spots in the coming months. First up will be stops in Minneapolis and Ames, followed by FGC's debut at the Capitol Theater in Davenport, IA, where the band will be supporting good friends, Lotus.
March and April will bring stops in Milwaukee, Des Moines, Dekalb, Lawrence and Kansas City among others, as well as a return to the Abbey in Chicago on March 26.
More dates will be added shortly - stay tuned to the official site for all the latest. Stay warm everyone, and we'll see you at the shows!
[NEWS] January 3, 2010 - Happy New Year!
FGC rang in 2010 at the Redstone Room in Davenport, IA by treating a sold-out crowd to the band's first full length acoustic set and first collaboration with a horn section. The acoustic set, which kicked off the evening and saw the band staged on the dance floor around a baby grand piano, featured debut covers "Two of Us" (Beatles), and "One More Day" (Wood Brothers). The band also debuted reworked "acoustic" versions of FGC staples "Ready Fire Aim," "One Eye Dreaming," and "The Charmer."

After a rare performance of "As Abe Was Walking," the second set saw the band welcome a horn section featuring Nathan Kamsler (Chinese Fingertrap, Fat Fest) and Jerry Spiering (MWC) to the stage for covers of Ray Charles' "Shake a Tail Feather," and the Beatles' "Got to Get You into My Life." The set closed with a horn-enhanced version of FGC's "A Misdemeanor's Worth."

After balloons and a midnight Auld Lang Syne that led into "Byron's Got the Time," the band welcomed the horns back to the stage for a set that included Phish's "Julius," MMW's "Wiggly's Way," and a horn-enhanced version of FGC's "The All The Everything." After closing the set with a run through "Tutear," "Trying to Live Up," and "Falling Off the Fence," the horn section came back to encore with Paul Simon's "Late in the Evening." FGC then closed the night as a four piece with "Another Before I Go."
Click here for a free download of the show!