[NEWS] November 26, 2011 - FGC to Team Up With Kyle Hollingsworth
FGC is very happy to announce a special event with good friend Kyle Hollingsworth of String Cheese Incident. On December 10, the band will join Kyle for Kyle's Brew Fest, a benefit for the Conscious Alliance, at the Bottom Lounge in Chicago. This will be the first time Kyle has hosted his Brew Fest in Chicago, and absolutely should not be missed. Highlights of the afternoon will include a very special FGC performance featuring Kyle, unlimited tastings from over a dozen craft breweries, a limited edition, commemorative Kyle's Beer Fest Chicago pint glass, bus transportation to the Aragon Ballroom for the SCI performance that evening, and a silent auction.
Doors will open at 1pm. Tickets are on sale now in very limited quantity, so we recommend you act fast. The band is very happy to be a part of such a special event - don't miss it!
[NEWS] October 17, 2011 - Announcing New Year's Eve 2011
We're excited to announce that we'll be back for our 5th consecutive New Year's Eve at the Redstone Room in Davenport, IA this year. Tickets go on sale this Friday, October 21st at www.redstoneroom.com.
More details to follow!

But don't forget, first up is our 2nd Annual Black Wednesday Thanksgiving show at the Mayne Stage in Chicago on November 23rd. Click the image for more info.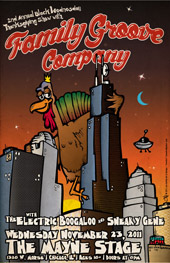 [NEWS] September 13, 2011 - Festival Season Wrap-Up - Gearing Up For a Killer Fall Tour!
The festival season wrapped up this past weekend with an incredible blowout at Shoe Fest, followed by a quick trek over to Ohio for an appearance at the Werk Out. We applaud the efforts of the production team for both events - it's not easy throwing these things together, and both did a first-rate job.
The band had a blast out at the festies this summer - Summer Camp, Wakarusa, and Shoe Fest were easy highlights. Shows in Davenport, Des Moines and Madison interspersed in between were just killer. Big thanks to you all for all the support and for an incredible 2011 festival season!
After a brief respite to catch our breaths, FGC will kick off fall touring on October 1 with a hometown blowout at Reggie's. Click here for a special advanced ticket/limited edition tour poster offer! More fall dates will be announced shortly, including stops in Dekalb, Urbana, Milwaukee, and a very exciting return to UW-Stevens Point.
Finally we want to give a special shout out to the Groove Family - we love hearing from you guys and can't wait to see you out again at the shows!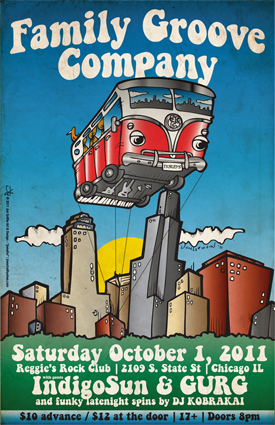 [NEWS] May 9, 2011 - Announcing the Sticker Contest Winner!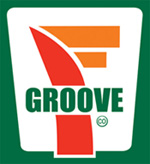 Thanks to all the talented fans who sent in designs for our sticker contest. The decision was NOT easy, but we are excited to congratulate Pat Marek from Dekalb IL as this year's winner! We'll be debuting his groovy "7-11" sticker at Summer Camp Music Festival so be sure to swing by the merch table at our sets and pick one up.
We would also like to recognize Chris Mattox from Minneapolis MN, whose design we chose as a runner-up for a future appearance on FGC swag (you'll just have to wait to see it!). We'll be sending both Pat and Chris to Summer Camp, and couldn't be more grateful for their creative contributions. Not to mention, everyone who sent in a design will be receiving a complimentary download of any FGC album of their choice as a thanks for participating. We love you guys!
[NEWS] April 12, 2011 - FGC Sticker Design Contest: Win a free ticket to Summer Camp Festival!
We had so much fun with last year's sticker design contest that we couldn't wait for Spring to roll around to run it again. Once again, we're calling upon YOU the fans to design FGC's next sticker. The winner is awarded a full weekend pass to Summer Camp Festival! (Note: Prize is transferable if winner cannot attend the festival.)
SUBMISSION GUIDELINES
Email your entry as an attachment to familygrooveco@gmail.com. Be sure to include your name and phone number in the body of the email. All entries will receive an email response within 24 hours to confirm receipt. If you do not receive a confirmation, please check back with us!

Feel free to submit as many designs as you like.

Entries due by May 5, 2011.

Winner chosen by FGC's esteemed panel of judges (i.e. the band) and will be announced on May 9, 2011.


ARTWORK GUIDELINES

Artwork should include "Family Groove Company" or "FGC" (duh)

Any size square/rectangle or circle/oval design is acceptable; we don't want to cramp your artistic style. We'll take care of the final size requirements if we choose your design. Keep in mind, the sticker's print size will be fairly small (~8 square inches total).

Both digitally-designed and scanned hand-drawn designs are accepted, and any image format is fine (jpg, gif, psd, etc). 300dpi is best. Unflattened Photoshop files preferred, but not required.

No color restrictions; designs can be full color.

If you have any questions, please email us directly at familygrooveco@gmail.com

For more information about Summer Camp Festival, visit www.summercampfestival.com or www.facebook.com/summercampmusicfestival

The fine print: FGC reserves the right to change the design slightly for printability. Winning submission becomes the property of FGC and no compensation, other than the contest prize, will be distributed to entrants. Any entries that infringe upon existing copyrights will not be eligible. Festival ticket prize is transferable to a person other than the contest winner for a $25 fee paid at the festival box office.
[NEWS] March 30, 2011 - Come On Spring!
The days are getting longer, and 30 degree weather notwithstanding, everyone in the FGC camp is thrilled to kick off 2011 Spring touring. First up is a free show at Depaul University on April 1, followed by dates in Dekalb, Bloomington, Des Moines and Lawrence. The band will be back up in Milwaukee at the end of the month, and shortly after that will head out to Nebraska for FGC's first festival appearance of the season at Love Fest in the Midwest. Soon after Love Fest, the band will officially kick off Summer 2011 the only way we know how, out at the Summer Camp Music Festival in Chillicothe, IL! More details about all the shows on the Tour page.
In other news, we are very excited to announce that FGC recently began work on a new album! Tracking began on March 24 at I.V. Lab Studio in Chicago, and work on the record is off to a terrific start. Click here for photos of our first session and stay tuned for updates!
[NEWS] February 4, 2011 - Now That's A Blizzard!
Hope everyone survived the storm and has dug themselves out! The band will be back at the Mayne Stage in Chicago tonight to shake off some of this cabin fever, and can't wait to see you all there.
New Year's Eve was a blast - big thanks to everyone that came out and helped us to a second consecutive sell-out. And of course very special thanks to Kevin Davidson, Jerry Spiering, and Scott Hargis (aka The All Business Horn Section) for lending us their brass stylings and playing such a big part in what was an unforgettable night!
Stay warm out there - see you all at the shows!