[NEWS] December 11, 2006 - Winter Dig It!
FGC and GFF Music are proud to announce Winter Dig It, which will take place at the Clearwater Theater in West Dundee, IL on Wednesday, December 27th. "What's a 'dig it,'" you ask? Well, the best answer is to come down to the Clearwater on 12/27 and find out! But at a minimum, we can tell you that tremendous music, a gathering of terrific people, and an out and out party are all fundamentally involved. That, and the fact that this particular Dig It is going down in winter time (oh yes, there will most definitely be more…).
FGC will be getting some much appreciated support at Winter Dig It from friends the Joint Chiefs of Staff, and Sean Shiel. Doors will open at the Clearwater at 7pm, and fans can expect music to begin promptly at 7:30. FGC just about fell in love with the Clearwater Theater during the band's debut appearance there over Halloween, and everyone's feeling great about this room inspiring many more tremendous sets of music. The next one is going down on December 27th….Winter Dig It - don't miss it!
[NEWS] November 8, 2006 - Halloween, the South, and a Bit More
FGC has just returned home from a very busy couple of weeks. First up was the band's Halloween run through Oshkosh, West Dundee, and on down to Auburn, AL. This year's theme was one of the band's favorite movies The Big Lebowski. Janis, Jordan, Adam, and Mattias treated audiences to a set of great tunes selected from the film's sound track, as well as some carefully reenacted scenes that positively brought the house down each night. The band would like to thank our Oshkosh, Dundee, and Auburn crews for the huge showing of support - it was great to see all of you guys!
On the heels of the Auburn show, the band continued their tour through the south, visiting Mississippi, back through Alabama, and then up to Tennessee. Birmingham, Chattanooga, and Knoxville were particular highlights, and we'd like to thank everyone for coming out and making the shows so much fun.
There is also some notable news to report with respect to a couple individual band members. As many of your already know, on October 26th, the band introduced a new shirt into FGC's clothing line, featuring our immensely talented bassist, Janis. We are happy to announce that just twelve days after the new shirt went on sale, our entire inventory is sold out (that includes all sizes from small to XXL). More shirts are being printed as we speak, and we appreciate everyone's patience as we restock our supplies. Again, we want to thank everyone for their support!
In FGC's keyboard world, the band currently ranks fourth on the latest Jambands.com poll, which asks, "Which of these bands leaves you most impressed with the keyboard player?" Sources close to the band report that Jordan himself cast a very gracious vote for John Medeski, but we know you are all pulling for him, so let your voices be heard!
Up ahead, FGC will be journeying back up to western Wisconsin for dates at UW-Stout and UW-Eau Claire. After a weekend off for Thanksgiving, the band is looking forward to seeing our good friends in Macomb, Moline and Lafayette again. The Lafayette show is of particular note, as it will benefit the Genocide Intervention Network in support of the humanitarian efforts in Darfur. More info will be coming shortly, but in the meantime, please visit www.lafayettefordarfur.com for details.
December dates, as well as FGC's first confirmed dates of 2007 will be announced soon - keep checking the official site for all the latest!
[NEWS] October 21, 2006 - Summer '06 Recap!
Fall is most assuredly upon us, and it's time to look back on what was a HUGE summer for FGC. The band kicked off the summer as it has for the last three years - Summer Camp! This year's Camp featured two sets from FGC, including the band's first appearance on the Sunshine Stage. Right on the heels of Summer Camp came FGC's first appearance at the Park West Theater in Chicago, supporting new friends Tea Leaf Green. The band played a killer set to a huge crowd, and the night proved to be one of the highlights of the summer.
The last couple weeks of June found FGC out in the Rockies, for a set at Groovefest in Cedar City, UT, followed by a tour through Colorado that included stops in Aspen/Snowmass, Denver, and Boulder. The band made it back to the Midwest in time to play two sets at the first annual Indiana Jam Bash, including a late-night set that saw Leftover Salmon's Vince Herman join the band for a vocal jam in "Byron's Got the Time." It proved to be a weekend of sit-ins for FGC, as Kris Meyers of Umphrey's McGee joined the band for a rollicking version of "The Chicken" the following night at the Canopy Club in Urbana, IL.
Next up on FGC's festival tour was Minnesota's 10,000 Lakes Festival. Janis, Jordan, Adam, and Mattias absolutely blew the roof off the Saloon Stage (we've got the pictures to prove it), and had a blast all weekend. A headlining slot at the Feel Good Festival in Wisconsin came next, followed by a performance before a packed house at Chicago's Heartland Café.
Surely one of the summer's biggest highlights was FGC's second set at Victor Wooten's F.U.N.K. Festival in Bean Blossom, IN. From back stage, Victor heard Janis lay down her bass line for FGC's version of "All Blues," came out front, and didn't take his eyes off her for the rest of the set. Janis was later interviewed by Victor and Steve Bailey, and invited to help lead the bass workshop that took place later that afternoon. Since then, Janis has been to South Carolina to perform with Victor as part of his Bass Extremes seminar (more details and video to follow).
As summer began to draw to a close, FGC headed back to the Canopy Club to join Tea Leaf Green for another support slot. The following day, the band returned to Chicago for another Park West appearance, this time with good friends RAQ, from Burlington, VT. RAQ and FGC then both headed out to Sheffield, IL the next day, to perform at the first annual Party at the Strip Mines. The Strip Mines show proved to be a fitting close to FGC's summer, and we're all hopeful that over the coming years it will become an end-of-summer staple in the Midwest.
All told, FGC played 37 shows in 7 states, including 10 festival appearances this summer. The summer saw several landmark performances by the band, including first appearances at the Park West, and on the main stage at the Canopy Club, a bump up to the Sunshine Stage at Summer Camp, and the band's first headlining appearances at several festivals. The momentum FGC has picked up over the last couple months has been palpable to everyone close to the band, and Janis, Jordan, Adam, and Mattias can't wait to hit the fall running. Late October and November will be busy…FGC's Halloween run and a whirlwind tour through the deep south are up next. Big thanks to everyone out there for making this a great summer - stay tuned to the official site for fall updates!
[NEWS] September 12, 2006
FGC's show at the Park West with Tea Leaf Green last June was a huge success, and we're pleased to announce the band's been tapped for another Park West show, this time with Burlington, VT's RAQ. FGC and RAQ will be teaming up for two shows over the first weekend of October. Friday, October 6th will be at the Park West in Chicago, and on Saturday, October 7th the bands will play back-to-back sets at the first annual Party at the Strip Mines in Sheffield, IL.
Doors open at 7:30pm at the Park West, and discounted advance tickets are available here. The Party at the Strip Mines is an all day/all night camping and music festival, with a fantastic line up that includes Euforquestra and Ernie Hendrickson and the Make Believe, in addition to RAQ and FGC.
[NEWS] August 31, 2006 - Wooten and Wallin get F.U.N.K.-y

The second annual F.U.N.K. (Friends uv Nature and Knowledge) festival was held last weekend in Bean Blossom, IN. Hosted by Victor Wooten, and inspired by the virtuoso's Bass Nature camp, F.U.N.K. integrates the atmosphere of a music and camping festival with workshops on nature, music, and a great deal more. Of particular note was bassist Janis Wallin of Family Groove Company, who was invited by Wooten to help lead the festival's bass workshop. Dubbed "the mistress of groove" by Wooten himself, Wallin's playing on FGC's up-tempo rendition of "All Blues" caught the ears of both Wooten and fellow bass virtuoso, Steve Bailey. Following FGC's set, Wooten and Bailey filmed an interview with Wallin to be published in their forthcoming online bass magazine, The Bass Vault.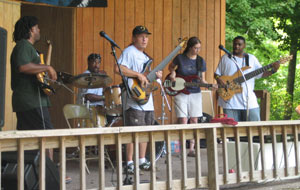 Victor Wooten, Derico, Steve Bailey, Janis Wallin, Little Al
8/28/06 FUNK Festival Bass Workshop
[NEWS] August 13, 2006 - Discount Rave tickets available at FGC Ticketing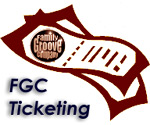 FGC is pleased to announce their debut performance at The Rave in Milwaukee on August 29, supporting the Hackensaw Boys, a great bluegrass outfit from Virginia.

Tickets for this all ages show are $10 at the door, but you can save big and score free goods by buying online at FGC Ticketing or in person at any FGC show.
[NEWS] July 10, 2006 - Vince Herman and Kris Myers Join the Family
Over the weekend, Chicago's Family Groove Company invited a number of notable guests to the stage. During its late night set at Auburn, IN's Indiana Jam Bash Thursday, Vince Herman jumped onstage, adding a vocal jam during FGC's organ driven instrumental, "Byron's Got the Time." Then, on Saturday, during Family Groove Company's set at Urbana, IL's Canopy Club, Umphrey's McGee's drummer Kris Myers joined FGC for an inspired rendition of the jazz/funk classic, "The Chicken." Visit jambands.com to read the rest of the article.
[NEWS] June 26, 2006 - 10,000 Lakes Festival ticket giveaways!
Greetings from the Rockies! FGC's been having a blast in Colorado and Utah…Groovefest in Cedar City was a blast, and the band can't wait for this weekend's shows in Snowmass, Denver, and Boulder. The excitement for the 10,000 Lakes Festival is building up quickly, and we've got some big ticket giveaway news!
First of all, as part of the continuing celebration for the release of The Charmer, FGC will be giving away two full passes to 10KLF at Contest Central! Then, over the weekend prior to the fest, FGC will be giving 10KLF tickets away at all three of the band's Wisconsin shows! Two tickets will be given away on 7/13 at Cranky Pat's, two on 7/14 at the Vibe in La Crosse, and four tickets will be given away at the all day, outdoor 10k pre-party blowout at the Pettibone Boat Club on 7/15, also in La Crosse.
Of course, first up after returning from Colorado is the Indiana Jam Bash in Auburn. See you all at the shows!
[NEWS] June 20, 2006 - FGC Festival Update...10,000 Lakes!!!
Summer has definitely arrived, and it's time for a run down on FGC's 2006 summer festival appearances. The latest and biggest news is that the band was recently confirmed to appear at the 10,000 Lakes Music Festival in Detroit Lakes, MN alongside tremendous acts like MMW, Phil Lesh, and Trey Anastasio. FGC performs Thursday afternoon, July 20th. The band would like to extend heartfelt thanks and gratitude to everyone that voted for FGC and sent in emails of support…FGC wasn't in the voting tally's top ten, so it would seem all the emails that were sent in made a huge impact. Thanks everyone!
Also on the festival schedule for the summer is the Indiana Jam Bash (Auburn, IN), Blottopia (Elgin, IL), the Feel Good Festival (Amherst, WI), and Harvest Jam (Thornville, OH). And of course, the band is currently en route to Groovefest in Cedar City, UT, with an appearance at the Summer of Free Music Series in Snowmass, CO the following week. See you all out there!
Festival Tour '06
5/25 | Summer Camp - Chillicothe, IL
5/26 | Summer Camp - Chillicothe, IL
6/23 | Groovefest - Cedar City, UT
7/02 | Summer of Free Music Series - Snowmass, CO
7/06 | Indiana Jambash - Auburn, IN
7/07 | Indiana Jambash - Auburn, IN
7/20 | 10,000 Lakes Festival - Detroit Lakes, MN
7/29 | Blottopia - South Elgin, IL
8/14 | Feel Good Festival - Amherst, WI
10/6 | Harvest Jam - Thornville, OH
[NEWS] June 8, 2006 - Title Track from The Charmer to appear on Relix Compilation CD!
FGC fans can look for "The Charmer" on the compilation CD included with the June issue of Relix Magazine. This latest issue of Relix Magazine, which hit newsstands on May 30th, features an exclusive cover story on Pete Townshend.


[NEWS] May 21, 2006 - FGC To Make Debut Appearance at Chicago's Park West Theater!
It's been an exciting past month for the band, and the month ahead looks to be keeping pace! We would first like to thank everyone who turned out for FGC's hometown CD release party at the Cubby Bear earlier this month…the night exceeded our expectations, and we couldn't have been happier sharing it with our good friends, 56 Hope Road. Release parties in Appleton, Macomb, Moline, and Iowa City all turned out to be fantastic nights, and we're so grateful for the overwhelming enthusiasm and support shown by you all for both the band, and our new album, The Charmer. Thanks!
We are thrilled to announce that FGC will appear at the Park West Theater in support of Tea Leaf Green on Saturday, June 3rd. The Park West has been a long time favorite venue for the band members, and this will definitely be a landmark date in FGC's young history. Doors open at 6:30, tickets are available through Ticketmaster, and we hope you'll all come out early and in great numbers to share this special night with us.
We're counting down the days until Summer Camp!! This year is shaping up to be a total blow out, with what has turned out to be a tremendous line up. In addition to our set on Friday, FGC will be part of the Thursday Pre-Party festivities (a night that includes our good friends RAQ, and San Fran phenoms, New Monsoon), so get yourselves out there Thursday afternoon and kick the weekend off right!
Looking ahead into the summer, we're pleased to announce newly confirmed dates at the Morton Center in West Lafayette, IN, the Bent River Brewery in Moline, IL, and an appearance at this year's Indiana Jam Bash in Auburn, IN, among others. Visit the tour page for complete details, and as always, keep checking the official site for all the latest.
The band is thrilled to be sharing this exciting time with you all - see you at the shows!
[NEWS] May 15, 2006 - 10,000 Lakes Festival Cosmic Break Contest!
FGC was recently chosen out of more than 400 bands to participate in the 10,000 Lakes Festival Cosmic Break Contest. A few minutes of your time could help FGC get a slot at one of the Midwest's premier festivals, featuring such artists as Phil Lesh, Trey Anastasio, String Cheese Incident and dozens more. Here's the deal: You vote, we play at the festival!
Go here to vote! If you aren't already a 10KLF member, you will first need to click the link for your free 10KLF membership, which is required before you can vote. You will not receive a single bit of spam for registering; this is simply to keep the voting legit (but be sure to uncheck the box if you don't want to receive the 10KLF
newsletter). The only email you get from them will be one confirming your vote.
After registering, go to the voting booth and vote for FGC!! You'll get a confirmation email shortly thereafter - Be sure to click on the link in the email to confirm your vote, or it will not be counted!
After voting, you will see a message that welcomes you to write in with more feedback about the band you voted for. This is strongly encouraged, and will increase our chances of winning! Email bands@10klf.com with some positive words about FGC!

[NEWS] May 1, 2006 - Family Groove Company launches FGC Contest Central!

FGC will be holding several contests throughout the summer, tying in with last week's release of The Charmer. Up first are free Summer Camp tickets! Visit FGC's new Contest Central to learn how you can win a ticket to see FGC and dozens of other great bands like moe. and Keller Williams at this year's Summer Camp music festival in Chillicothe, IL. A contest is also currently being held to win a selection of FGC CDs, and additional contests will be added throughout the summer.
But that's not all! FGC will also be giving away Summer Camp tickets at this weekend's CD release parties in Appleton and Chicago! Two tickets to the Thursday Summer Camp pre-party* will be given away in Appleton at Tom's Garage, and a full weekend Summer Camp ticket (including admission into the pre-party) will be given away in Chicago at the Cubby Bear. Click here for the tour page and further show details, and here for additional Summer Camp information.
*Note: Admittance into the Thursday pre-party is open only to those concert goers with a full three-day Summer Camp ticket. The winner of the drawing must have a three-day Summer Camp ticket in order to take advantage of the free pre-party ticket (but that's ok, because you won't want to miss FGC's second set on Friday afternoon!)
[NEWS] - April 6, 2006 FGC proudly announces…The Charmer!!
In the summer of 2002, FGC released their first studio album, Reachin'. The band had only been playing together for a short while, and basically put every piece of original music they had on the album. In the years since, FGC has played 358 shows (including the gig in Snowmass, CO tonight), added over 50 songs to their repertoire, and now…..a second studio release! Family Groove Company is thrilled to announce the arrival of The Charmer. Recorded in December of last year, with overdubs in January and February, 20 songs were tracked, and after agonizing deliberation, the band chose the tunes that best came together to deliver their collective vision for the album. It is with great pride that FGC presents 14 tracks of some of the best sounding stuff the band has ever played.
The Charmer will be available April 25th, but there's a great deal to hold everyone over until then. Visit familygrooveco.com/charmer for unique insight into what The Charmer is all about, streaming audio previews, info on upcoming CD release parties, and of course, preorder information!
[NEWS] - February 16, 2006
FGC is very pleased to announce that the band will once again be kicking the summer off the best way we know how…at Summer Camp 2006! Set times and stage info will be released in the coming weeks and months - check out the official Summer Camp site for more details. The band CAN'T WAIT to see all of our friends at Three Sisters Park on Memorial Day weekend!
[NEWS] - February 9, 2006
FGC's 2006 touring is well underway, and the band has been thrilled to be back on the road after a brief rest over the holidays. The first destination on the agenda was a ten day trip through the balmy South, with highlights that included fantastic nights in Auburn and Birmingham, AL, as well as a long overdue reunion with good friends Secret Gossip in Murfreesboro, TN. More recently, FGC found themselves in the middle of one of the nation's biggest parties in Detroit over Super Bowl weekend. The band appeared at two tailgate parties at the NFL's official headquarters, and rubbed shoulders with football greats like Shannon Sharpe while taking in all of the mayhem and excitement that surrounded the weekend.
This weekend, FGC is excited to be heading back up to Wisconsin to see all of our friends in Oshkosh and Appleton, and we're also looking forward to shows in Iowa City, Moline, and a huge three night run at UW-Eau Claire later this month. March and April tour dates are coming in quickly (the band can confirm a Colorado tour by the end of the ski season), and everyone at FGC headquarters is fired up about some BIG announcements we'll be making soon.
Looking forward to seeing you all at the shows!