Upcoming Shows
Huge thanks to everyone that came out and raged with us at DePaul University in Chicago last Friday. That was one for the history books! We've got free audio and video downloads coming soon, but for the time being, scroll down and click the photo below for more shots from the show by Aaron Engler from Ab Photographie. Next up this weekend are shows in DeKalb IL and Bloomington IL, followed by Des Moines IA and Lawrence KS the next weekend.. Don't forget to RSVP to the Facebook events for a chance to win tickets and prizes!

FRIDAY APRIL 8
HOUSE CAFE - DEKALB, IL
263 E Lincoln Highway • 815-787-9547
Doors at 8pm • $10 • All Ages • 2 sets
with Lakeshore Vibe supporting
Buy advance tickets (Note: Limited venue capacity!)
thehousecafe.net Facebook event (RSVP to win tickets and prizes!)

SATURDAY APRIL 9
CASTLE THEATRE - BLOOMINGTON, IL
209 East Washington Street • 309-820-0352
Doors at 7pm • $10 advance • All Ages
with Herbert Wiser and Jaik Willis supporting
thecastletheatre.com Facebook event (RSVP to win tickets and prizes!)


Click here for more shots from the 4/1/11 Chicago show!
FRIDAY APRIL 15
VAUDEVILLE MEWS - DES MOINES, IA
212 Fourth Street • 515-243-3270
9:00pm • $10 Cover • Ages 21+
with Floodplane supporting
vaudevillemews.com Facebook event link

SATURDAY APRIL 16
THE BOTTLENECK - LAWRENCE, KS
737 New Hampshire • 785-841-5483
9:00pm • $8 • Ages 18+
with Mountain Sprout
thebottlenecklive.com


More details about all the shows at familygrooveco.com/tour.



Footage from the studio
We're excited to bring you some behind-the-scenes footage of our first tracking session for our new album at I.V. Lab Studios in Chicago a couple weeks ago. Click the image below to check out the video on YouTube.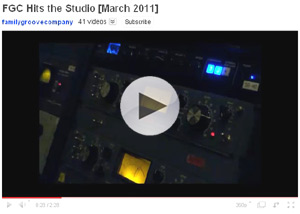 Wakarusa ticket prices go up this week!

The Wakarusa Music and Camping Festival is a 4-day festival held June 2-5, 2011 at Mulberry Mountain in Ozark, AR. Along with FGC, the 140-plus band lineup includes Umphrey's McGee, STS9, Ben Harper and so many more. The price for full event passes will be increasing this Friday April 8 at 11:59pm CDT, so we encourage you to buy in advance and save some cash. Plenty of information about the festival and lineup is available at the Wakarusa website. We'll see you on the mountain!


Upcoming shows:
4/8 DeKalb, IL
4/9 Bloomington, IL
4/15 Des Moines, IA
4/16 Lawrence, KS
4/29 Milwaukee, WI

Click here for more shows and details
Featured Link: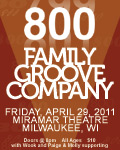 FGC's 800th show - Facebook event page
Featured mp3:
Bathtub Gin
New Year's Eve 2010
Featured Video:
Studio Footage
March 24, 2011
Featured Merch:


"Summer in the City" Tshirts
$15 with free shipping
FGC on the Web: