Chicago on Friday!
With the Blizzard of 2011 behind us, we invite you to dig yourself out and relieve that cabin fever at The Mayne Stage in Chicago this Friday! Things will be heating up at this beautiful venue in Rogers Park on the North side of the city, and we can't wait for this rare hometown appearance.

Friday February 4 - Mayne Stage - Chicago, IL
1328 W. Morse Ave. (773) 381-4544 8pm $10 advance
with The Electric Boogaloo and Rough Cut supporting
ALL AGES maynestage.com Facebook event
RSVP to the Facebook event to win tickets and prizes!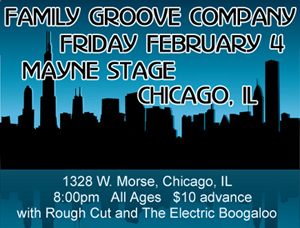 Next week:

Thursday February 10 - Majestic Theatre - Madison, WI
FREE SHOW with Wook supporting
ALL AGES majesticmadison.com Facebook event

Saturday February 12 - Cabin Fever Campout - East Peoria, IL
Weekend-long indoor camping and music festival
with Peter Rowan, The Schwag, The Coop, and many more!
ALL AGES cabinfevercampout.com Facebook event


More details about all shows at the Facebook links or familygrooveco.com/tour


More Videos!
Be sure to visit our YouTube channel for a bunch of new FGC videos:

1. A cover of Phish's "Lawn Boy" from the Thanksgiving show in Chicago.

2. Several uploads from FGC's show last week at the Canopy Club in Urbana, including Josie (Steely Dan cover) and The All The Everything. Click here for the entire playlist.

3. Volume 25 of the FGC Video Blog series, covering the band's adventures in four different states in November 2010.


Live at The Mayne Stage on 11/24/10, by Norman Sands.
Click here for more photos from the show.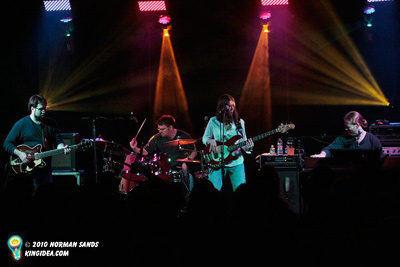 Upcoming shows:
2/4 Chicago, IL
2/10 Madison, WI
2/12 Peoria, IL
3/5 Iowa City, IA

Click here for more shows and details
Featured Link:
FGC on Pandora
Add us to your station and stream free!
Featured mp3:
Bodhisattva
Live at moe.down '09
Featured Video:
Lawn Boy
Live on 11/24/10 in Chicago
Featured Merch: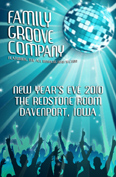 New Year's Posters
$7 with free shipping
FGC on the Web: