Welcome to the official Family Groove Company website.
FGC is a touring quartet based in Chicago.

[NEWS] September 28, 2017 - Fall update
Thanks to everyone that came out to our shows in Dekalb and Chicago last weekend! It was great to get back out there again.
We've got a few more Midwest shows on tap for the fall, including drummer Pete's birthday show at OTP Wasco in St. Charles, a debut at George's Tavern in Racine, and a Black Wednesday Thanksgiving blow-out at Mackey's Hideout.
Stay tuned for more show announcements soon, and don't forget to hop on all the Facebook events to be automatically entered to win free tickets!
Friday October 20: OTP Wasco, St. Charles, IL (Pete's birthday!)
Saturday November 18: George's Tavern, Racine, WI (Venue debut!)
Wednesday November 22: Mackey's Hideout, McHenry, IL (Annual Thanksgiving Show!)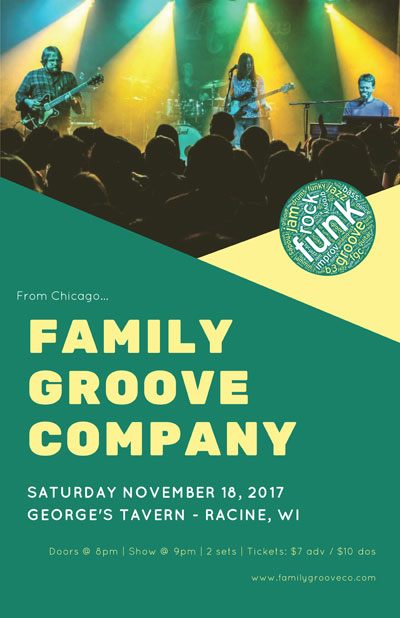 Check out the News Archives to read past updates.