Welcome to the official Family Groove Company website.
FGC is a touring quartet based in Chicago.

[NEWS] November 11, 2014 - FGC Holiday Shows!
As the winter ascends upon us, we're excited to heat up the end of 2014 with two very special holiday shows!
For Thanksgiving, we return to the Redstone Room in Davenport, IA for our second annual Black Friday show on November 28. As a gesture of giving thanks to 7 fun years of Redstone Room shows past, this performance will include a very special "Best of FGC at the Redstone Room" set. We'll look back on our 7 years of shows, milestones and themes, and pick our favorite moments to recap for you.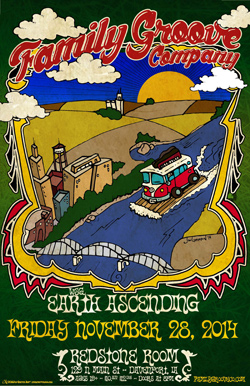 And in December, we're bringing it home to Chicago for a holiday getdown at Subterranean on Friday December 26. This show is open to ages 17+, and we've got some special surprises in store for the hometown family.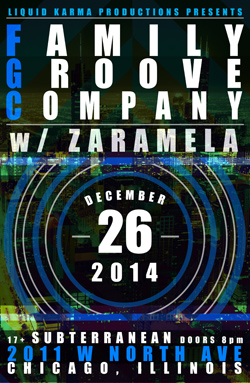 Don't forget to hop on the Facebook events to be automatically entered to win FREE TICKETS to each show and other prizes.
Nov 28 @ Redstone Room, Davenport, IA
Dec 26 @ Subterranean, Chicago, IL
Stay warm, folks, and see you out at the shows!
Check out the News Archives to read past updates.